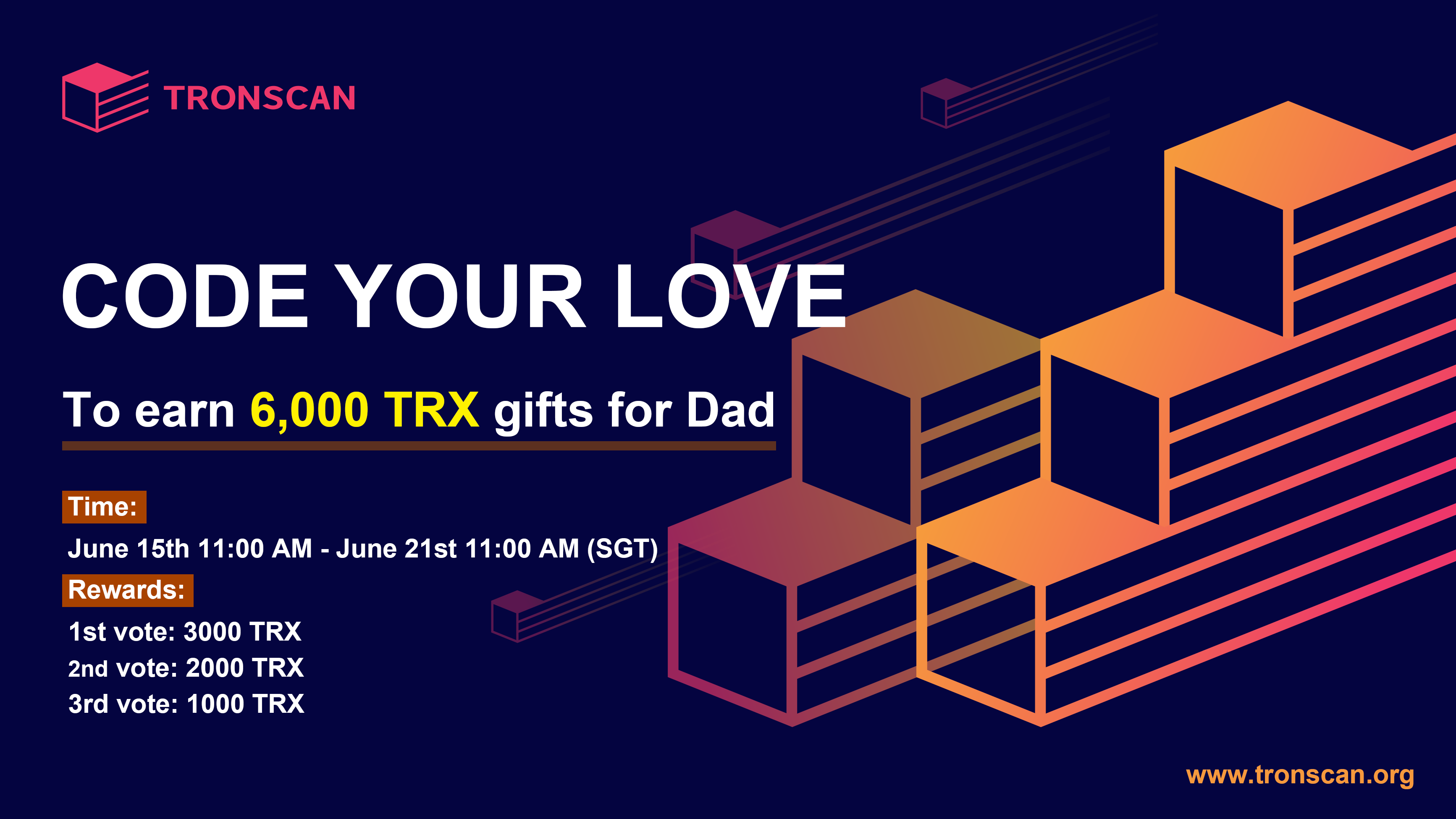 Father's Day is comining. It is the time of one year when you have so much to say to dad but don't know where to start - code it with TRONSCAN! Participate in the #TRONSCANFathersDay# campaign on TRONSCAN twitter, comment pictures of your codes. Comments with the top 10 number of likes will be voted by the community and earn a shot of winning 6,000 TRX.
Time: June 15th 11:00 AM - June 21st 11:00 AM, 2019 (SGT)
Event chanel: https://twitter.com/TRONSCAN_ORG/
Rules:
Code your love for dad with any programming language in fewer than 30 lines;

Generate pictures of your codes using Carbon or other tools;

Explain what your codes mean in the comment section and attach pictures of your codes;

Add the tag #

TRONSCAN

Coding#, repost, and @3 friends;

Comments with the top 10 number of likes will be voted by the community.
Voting time:
June 24th

11:00 AM,

- June 28th

11:00 AM

(SGT)

The 3 codes with the most votes from the community will receive rewards
Rewards allocation (Vote result will be the final winners result)
1st place: 3000 TRX

2nd place: 2000 TRX

3rd place: 1000 TRX
Please note:
The url to Carbon, an online picture generator that can create picture from codes:

https://carbon.now.sh/

. You are also welcome to use other better picture generating tools;

To participate in the campaign, you will need to include the following information in your comment: pictures generated from codes, explanation, tag#codeyourlovefordadwithtronscan# and @ 3 friends;

Code plagiarism is not allowed and users are responsible for copyright disputes resulting from their codes;

If there are repeated codes, the first user who posted the codes in their comments will be the code owner;

Users are expected to read through campaign rules and notes carefully before participating in the campaign. Once the comment is submitted, the user will be considered to have understood and agreed to all the rules and requirements of this campaign.
Note: Tronscan reserves the right of final interpretation to this campaign.
Follow us for more latest news:
Official Web: https://tronscan.org/
Telegram: https://t.me/tronscan_org
Twitter: https://twitter.com/TRONSCAN_ORG
Sina Weibo: https://www.weibo.com/tronscan